Trouble viewing this e-mail? Click Here to see the online version
To ensure delivery to your inbox, please add karisma@karismanewsletter.com to your safe sender list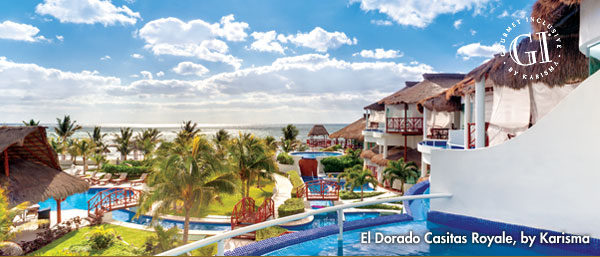 Nestled along the beach in a secluded area within El Dorado Royale on Mexico's Riviera Maya, El Dorado Casitas Royale, is an adults only resort designed for romance. Take advantage of our blowout savings special and save up to 47% for travel originating in the US. Relax in your private casita directly on the beach and enjoy a beautiful suite complete with an in-suite Jacuzzi, king sized bed, and an ocean view. 

Dine at seven amazing restaurants, unwind with our world-class spa services, relax in one of 13 swimming pools by day, then join in the exciting nightlife.

Book before July 10 to for these amazing discounts!

 


 
Blowout Savings Save up to 55% + Added values At
El Dorado Spa Resorts & Azul Hotels, by Karisma

 


Booking: Book: June 30, 2011 – July 10th, 2011
Travel Window- now through December 22, 2011

 

…more

Bride & Groom Stay FREE at Azul Fives
After 15 rooms booked, Bride and Groom receive a complimentary room + 20% off room rates and private event fees. 
Book: May 1st, 2011 – August 31st, 2011
Travel: June 1st, 2011- December 22nd, 2012* …more

Bride & Groom Stay FREE
After 15 rooms booked, Bride and Groom receive a complimentary room + 20% off room rates and private event fees. 
Book: June 16th, 2011 – August 31st, 2011
Travel: June 16th, 2011- December 22nd, 2012* …more

Bride & Groom Stay FREE at El Dorado Casitas Royale 
After 12 rooms booked, Bride and Groom receive a complimentary room + 20% off room rates and private event fees,
and $500 Resort Credit 
Book: June 1st, 2011 – August 31st, 2011
Travel: June 1st, 2011- December 22nd, 2012* …more
 
Groups Get More Bang for Their Buck 
20% off room rates and private event fees + 1 complimentary 
suite for every 15 paid suites 
Book: June 16th, 2011 – June 30th, 2011
Travel: June 1st, 2011- December 22nd, 2012* …more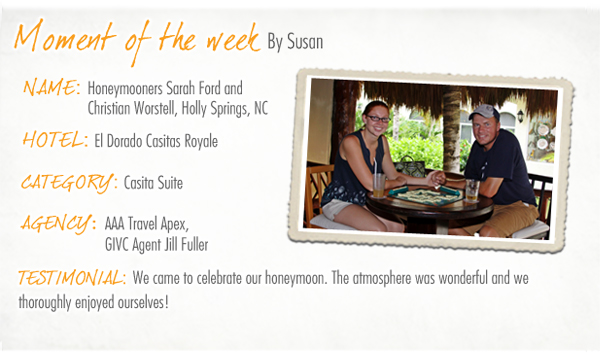 For More Information
Call your preferred Tour Operator
or call us at

 

866.527.4762
| | |
| --- | --- |
|   | *Travel dates may vary. See website for further details. For travel originating out of the US. |
If you no longer want our email updates, click to unsubscribe
Copyright 2011 Premier Worldwide Marketing LLC
3191 Coral Way PH 202 Miami FL 33145
Similar Posts: