Oceania Cruises • Tuesday, Oct 25, 2016 2pm ET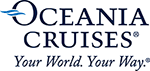 Oceania Cruises Brand Positioning
At Oceania Cruises we continue to invest in the hallmark of our band which is the culinary experience.  It's what sets us apart in the industry.  Since our beginning we have focused on 3 key elements that are essential in providing our guests with the finest cuisine at sea.
Sourcing the best ingredients from destinations across the world
One of the most talented and extensive culinary teams in the industry
Michelin-star quality galley space & state of the art equipment
Join us on this webinar to learn more!
REGISTER NOW!
Open to US & Canada Members Read more…